All of our marshmallows are weighed with a digital scale. These treats are so light and fluffy that the net weight may seem small; but we have given an estimate on the amount of marshmallows in each bag.
PLEASE NOTE: ENSEMBLE FLAVORS ARE A LITTLE EXTRA DUE TO THE EXTRA WORK AND INGREDIENTS INVOLVED IN MAKING THEM UNIQUE.
1/10 pound Small bag: $2.50 Ensemble: $3.00 (about 6-7 1x1 inch marshmallows)
¼ pound Medium bag: $6.00 Ensemble: $7.00 (about 12-13 1x1 inch marshmallows)
½ pound Large bag: $10.00 Ensemble: $12.00 (about 25-28 1x1 inch marshmallows)
Pound bag: $18.00 Ensemble: $18.00 (about 50-60 1x1 inch marshmallows)
Call, Click,

or Come on By!
Find us in these fine WI stores:
Berres Brothers Cafe - Watertown
Towne Cinema - Watertown
Nomadic - Fort Atkinson
(N+1) Coffee and Beer - Verona

Give us a call:
(262) 745-6876
Drop us a note:
jazzedupmarshmallows@gmail.com
We announce where we will be on Facebook. Be a fan today!

Come see us! (Now In Season)
Whitewater Downtown Market, Whitewater, WI
- May until late October
Tuesdays 3:30-7:30
----------------------------

Fort Atkinson Farmer's Market, Fort Atkinson, WI.
- May until late October

www.fortfarmersmarket.com
Saturdays from 8 am - Noon

---------------------------
Madison Night Market
www.madisonnightmarket.com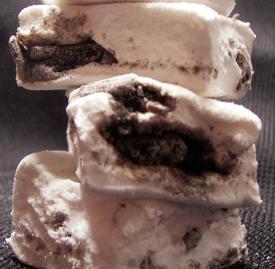 Fun Ideas with Marshmallows!
We can also make shapes and create packaging for any occasion. See what we have done on Facebook! Let us know what we can create for you!

*************************************************************
S'mores, of course!
Birthday Party Favors
Baby Shower Gifts
Wedding Shower Gifts
Wedding Favors
Social gatherings
Stocking stuffers
Gifts
Make Rice Crispies
SUPER SPECIAL Coffee additives Hot Chocolate additives - especially the cinnamon or mint chocolate chip...yum!
Looking for that special gift? Try our Marshmallow of the Month Club. You or your recipient will receive a Special Flavor designed for the month and a small bag of one of our Solos. Plus something extra. Price includes shipping, and we ship to anywhere. We include a nice note of whom it's from, if requested.